Bench buddy is sold in 2 sizes Large and Small. Bench buddy is CNC Plasma cut from 12ga cold rolled steel and bent with a 20 ton press.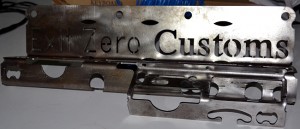 Large Bench buddy is able to hold a lot of tools that are normally needed but end up in the way at the same time.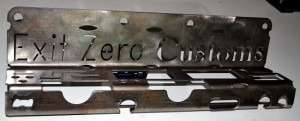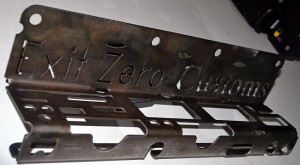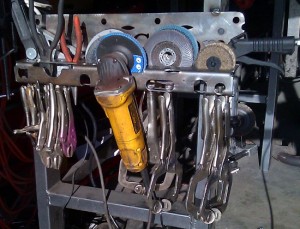 items Large Bench buddy can hold
– 2 grinders
– 2 slots for grinder disks/flap wheels
– full length rack for vise-grips
– several holes that are good for sharpies, markers, scribes, air tools (if stuck in via the air fitting), we have even seen shops use these holes for keeping Tig rod near the work station
– Right angle square
– Carpenter's Square
– Air Die Grinder slot
– Air Die grinder surface prep disk slot
– bottle opener
price is $42.00 plus shipping
Small Bench buddy is great for keeping a grinder and its supplies handy.
items Small Bench buddy can hold
– 1 grinder
– 1 slot for grinder disks/flap wheels
– hang tabs for eye/ear protection
– several holes that are good for sharpies, markers, scribes, air tools (if stuck in via the air fitting), we have even seen shops use these holes for keeping Tig rod near the work station
– Right angle square
– bottle opener
price is $25.00 plus shipping
Both Large and Small Bench buddy are shipped raw